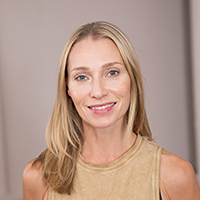 Sandra is a 200 RYT according to The Yoga Alliance criteria. Besides this she has nearly 200 hrs advanced training including pranayama, mediation, Indian philosophy, sequencing and assisting. In addition, 100 hrs yin yoga training in proportion to Paul Grilley´s theory and practice with a deeper understanding about the five elements in Chinese medicine. During a period of 1,5 years she assisted senior pranayama teacher Sara Granström.
Sandra´s own yogapractice started in the Ashtanga Vinyasa System, but rather quickly the practice change and became more of a traditional and classical Hatha yoga with focus on pranayama, mantras & meditation.
Her classes are often built up from a softer approach into more challenging movements and postures. The tempo is gentler and the transaction between postures are in a flow. Awareness about breath is central throughout the class – no matter which of her classes you attend to.
"My own yoga practice helps me to stay focused and concentrated to live my life with greater awareness about myself and others"
If you would like to read more about me, my classes, workshops and retreats feel free to visit my website or social media at:

www.sandrajanson.com
Instagram @sandrajansonyoga
Facebook @sandrajansonyoga